How We Work Together
The Influence & Co. team works collaboratively across departments to help our clients achieve their business goals through strategic content marketing.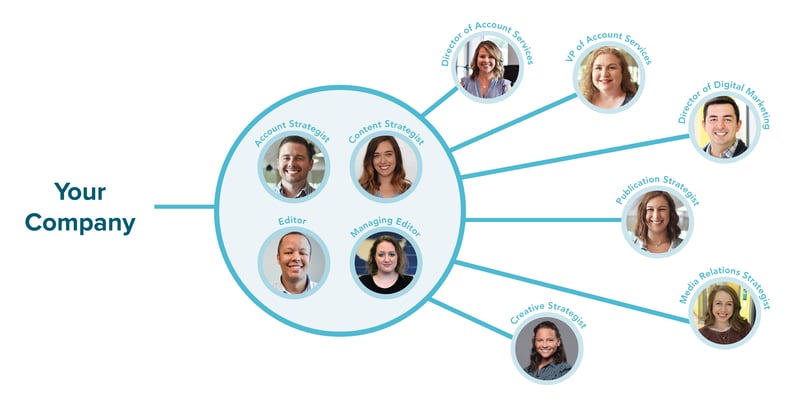 Account Services

Each client is assigned a dedicated account team. This team works together to provide a personalized experience to best serve clients.
The account strategist directs the overall strategy and communication between the account team and the client.

The

content strategist

develops content topics that work toward the client's goals and determines distribution outlets.

The editor is responsible for the written content, ensuring it matches the client's voice and the target publication's editorial guidelines. Our editors edit the content prior to sharing it with the client for approval, and if the client has keyword research in its package, the editor also optimizes the content with relevant keywords.
The managing editor is the final stop before content is distributed. This role is responsible for taking a fine-tooth comb to each piece of content to ensure it contains no grammatical errors and reads accurately.
The director of account services supports the account team and makes sure both our clients and our account teams are successful. Each director of account services manages two to three account teams.
The

creative strategist

brings visuals to clients' content. For any clients with designed deliverables in their packages, such as infographics or whitepapers, the creative strategist works with account team members to create beautiful designs that complement the company's branding and style.

Digital Marketing


Our digital marketing team ensures our client relationships are set up to deliver comprehensive, measurable results. These SEO experts perform content audits, keyword research, and reporting to help our account teams create high-performing content that drives tangible results for clients.
Media Relations
The media relations team includes two primary roles:
PR strategists

maintain relationships with journalists, reporters, and columnists

to secure press opportunities for clients. Each client with press mentions or press retainers in its package has a PR strategist who works closely with the account team.

Publication strategists develop industry- and audience-specific publication relationships. They regularly monitor analytics on content performance at those publications and help account teams strategize the best placement opportunities. Each client with guest-contributed articles in its package has a primary publication strategist assigned to its account.