Influence & Co.'s Process for Knowledge Extraction
We make content creation enjoyable and less time-consuming, enabling us to create more exceptional content that's coming from you, the expert.
Quick show of hands — who thinks creating great content is easy?
*Crickets*
We didn't think so. Creating high-quality educational content on a consistent basis certainly isn't easy when you consider all the moving parts involved — but it doesn't have to be a negative experience.
At Influence & Co., we've developed a time-tested process called knowledge extraction that uses a strategic Q&A format to extract your invaluable expertise — your differentiating factor — and infuse it in each piece of content.
Our process is tailored to you, based on your needs and busy schedule, using one or a mix of the following:
Written questions via email
A Q&A via our exclusive portal software
A phone interview with your content strategy team
Extended cycle questions (one question a day over multiple days/weeks)
This process removes the eye-glazing elements of creating content and only leaves room for the exciting part: letting our clients tell us what they're passionate about in a stream-of-consciousness manner. Because the best content comes from the expert (you), it's vital to include that piece of the puzzle in everything we do while continuing to make the process enjoyable.
That's what truly exceptional content is all about.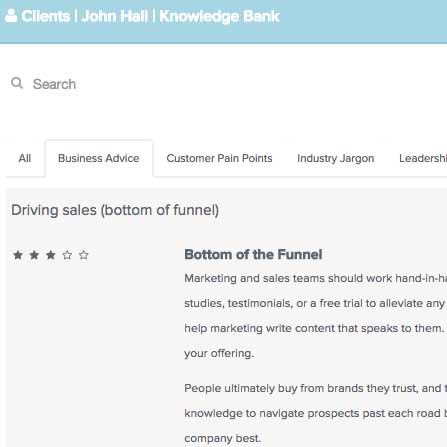 To save you and your content strategy team time spent creating content every month, we develop a customized knowledge bank for you on an ongoing basis that houses all of your brand messaging, customer pain points, key experiences, writing style/tone, and more. This bank of knowledge is then used for each piece of content moving forward; it's become one of the most successful (and fun) aspects of the process for our clients.
This step of the process is your account strategist's favorite part because it's a chance to get to know a little bit more about you with every new opportunity. We're excited to hear about your company's history, culture, opinions, etc. Share your story with us so we can help you share it with the world.
To discover how we use your knowledge to create exceptional content, check out our Content Creation page.